If you have been studying Internet Marketing for any length of time you will come to realize that at some point in your career you will have to get some sales copy written for your products.
There are 2 ways to do this you can either pay an experienced copywriter to write it for you which can be expensive especially if you are just starting out, or you can take steps to learn how to do it yourself.
There are quite a few books already written about the process one I can recommend is Randolf Smiths Sales Letter ABC and another respected copywriter that springs to mind is Ted Nicholas, who also has a couple of books out called "How To Turn Words Into Money" & "Magic Words That Bring You Riches".
The one thing that all copywriters will have somewhere amongst their tool kit is a SWIPE FILE.
So what actually is a SWIPE FILE?
A SWIPE FILE is a collection of sales letters and sales material that have been collected over the years that can be used as a reference guide when writing your own sales copy.
If you have ever tried to write sales copy,  starting off with a blank page can be quite hard. You can sometimes get a mental block which slows you down. This is a good time to pull out your swipe file to get some ideas flowing and start the ball rolling.
Now I must make this clear a swipe file is to help you get ideas from and not something you should actually copy from. You see the sales letters will be protected by copy write but what you can do is find some Ideas and put them into your own words.
Another reason a Swipe File is handy is that you can see how a sales letter is constructed. One common term I have heard when writing sales copy is this A.I.D.A. which stands for Attention, Interest, Desire, and Action.
Attention = Grab the attention of your potential customer usually with a good attention grabbing headline.
Interest = Get your customers interest by explaining the advantages and benefits you product would bring to them the prospective customer.
Desire = Convince your customers that the product will satisfy their needs and therefore making the decision to purchase a lot easier for them.
Action = A call to action to get your customer to take action and make the purchase.
You see there is actually a certain way that successful sales letters are written and having a swipe file in front of you can not only help you with the wording but you can also see how they are visually set out.
Now you can buy swipe files if you do a search on Google I am sure you will come up with some that are for sale already collated on a disk or some other format. Another way and I have also been doing this myself is to collect the sales letters (Junk Mail) that you get through the post, especially if there is one that you keeps getting sent to you. The reason for this is if there is one that keeps on coming out to you it is a good indicator that the company is generating sales from it.
Below is a photo of just a small amount of the letters that I have personally collected over the years which have some good sales copy on them.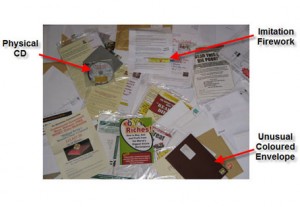 The other thing I have noticed is that a lot of these offline physical sales letters point you to their online businesses for example they tell you something like for further information visit and put in their website address.
So don't rule out using offline marketing tactics to drive traffic to your online business. You will also notice some different techniques that various marketers use to get their mail opened you will notice on the above picture I have labelled some objects.
Some of them use different colour envelopes to make it look personal rather than junk mail. Some of them use what is known as lumpy mail to get the letter opened one example is the imitation firework that was enclosed with a sales letter and a headline saying something along the lines of when you have finished reading this letter you may want to light this firework in celebration of your future success.
Another option is to send out a physical CD as pictured above. These are all different marketing tactics to make them stand out from the crowd to get their message read.
Another place to find good sales copy is in newspapers and magazines keep your eyes opened for any advertisements with good sales copy in them and add these to your swipe file.
Sometimes in the newspapers or magazines you will be reading a full page article about a product and if you look closely somewhere at the top or bottom of the page it will tell you that it is actually an advertisement. Imagine how expensive an advert like this would cost so it would probably have been written by a decent copywriter.
Also newspaper headlines are designed to sell newspapers so take note of the headlines that you see and you never know you might come across one that you can adapt to a headline on one of your sales letters.
I hope you found this article helpful and informative
Regards
Robert Chenery